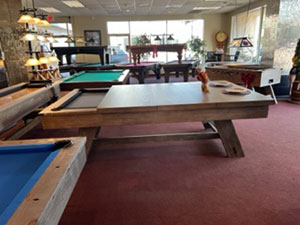 Moving furniture into your home can be a stressful experience because you can easily make costly mistakes. Since pool tables are expensive investments, you need professional help when moving them to ensure they are safe. Here's how you can save money by hiring professional pool table movers like us at Carolina Pool Tables Plus.
Proper dismantling and reassembly.
You have to break down a pool table to transport it safely. This means you'll still need to reassemble it once you get to your home. If you make it a DIY project, you'll not only incur the transportation cost, but you may also need to hire a professional to reassemble your pool if it has a complicated design. Our team of experts will dismantle your pool, package it safely, transport it, and reassemble it skillfully, ensuring your table is ready to use once more. Our professionals will accurately dismantle and reassemble your pool table efficiently and properly.
Are you looking for reliable pool table movers in Charlotte, North Carolina or Columbia, South Carolina? Call us today for a free quote.